Get Hooked on Holden Beach's Premier Fishing Charters!
Secure your spot on our guided fishing charters and create memories that will last a lifetime in Holden Beach, North Carolina
Escape to Nature's Playground with Our Fishing Excursions in Holden Beach, North Carolina
A fishing charter service provides the opportunity for individuals or groups to go on guided fishing trips with experienced captains and crew. It is important for those who are passionate about fishing but may lack the necessary equipment, knowledge, or access to prime fishing locations.
Fishing charters offer convenience, expertise, and access to a variety of fishing experiences, whether it's inshore, nearshore, deep sea, or specialized trips like a shark or Gulf Stream fishing. They ensure a memorable and successful fishing adventure for both experienced anglers and beginners alike. Contact North Myrtle Beach Fishing Charters for the best services in Holden Beach, North Carolina.
Services We Provide in Holden Beach, North Carolina
Are you in search of fishing charter services in Holden Beach, North Carolina? Look no further! At North Myrtle Beach Fishing Charters, we proudly offer a wide range of services to cater to your fishing needs. Whether you're interested in inshore fishing, nearshore expeditions, shark fishing, deep sea adventures, or Gulf Stream charters, we have the perfect option for you.
Our experienced captains and crew members are committed to providing you with a memorable and rewarding fishing experience. Join us and indulge in the thrill of the ocean while reeling in your dream catch.
Experience the thrill of fishing in calm, nearshore waters while targeting popular inshore species like redfish, trout, and snook.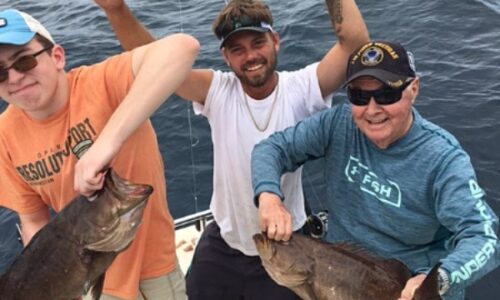 Set sail for the Gulf Stream, a renowned fishing destination teeming with big game fish such as wahoo, sailfish, and swordfish. Enjoy an action-packed offshore fishing adventure.
Join us for an adrenaline-pumping adventure as we hunt for formidable sharks in their natural habitat, providing an unforgettable fishing experience.
Let's Plan Your Perfect Fishing Experience in Holden Beach, North Carolina
Jim Shaughnessy
2023-08-03
Do not book with Captain Terry. Had a trip booked only to get a text the night before at 8pm that his boat broke down. Also then found out his boat was down most of the week prior. Extremely disappointed as now my wife and I will spend all day trying to find another fishing trip for the day. I thought this wouldn't be an issue as we weren't going with the lowest cost option. Save yourself the headache and book with someone that doesn't have so many issues with their boat!!
Wonderful crew!! We've been using Captain Keith and his crew for several years for our annual company fishing trip. Always a good time!!!
Our family chose the Inshore Fishing trip. Captain Brian was patient in helping everyone with their poles and lines. It was great to see him catch shrimp for bait. He has a wealth of knowledge about the area and the fish. Each member of our party was able to catch a fish.
Gretchen Giffin
2023-07-20
Captain Rashad was great! He was upbeat, positive and confident in his fishing knowledge. We caught 2 small sharks, landing one, which was our goal from the beginning! We would certainly fish with him again.
David Montanez
2023-07-19
Great trip.. capitán and first mate were awesome! Kids had a blast! Thank you.
Wonderful day with kids and grand kids. Captain Keith was very patient, which created an environment where the grand kids not only had a great time but learned some names of fish. This experience added to their love of nature. We all caught fish!!!!
Captain Keith and Dean were amazing. Fishing waters was rough, but we manage to catch a bigger and bigger shark each time there was a bite. Enjoyed the 4 hour trip very much! We will book again if we are in the area!
Brandon McGraw
2023-06-29
Rashaad was awesome! Although we didn't have any luck fishing, he made the entire trip and experience awesome for our kids. We had a blast (minus the one person who the waves got the best of them).
Captain Darien was great!
C "Swiftymf" Howle
2023-06-19
Capt. Danny Juel and Megan were the best ! They took the time to make sure both our boys caught fish and treated us very nice . I've been on a few other charters but this one has been one of the best and my all time favorites! If you are looking for a good fishing trip I would recommend them over and over again ! You definitely won't be disappointed at all .
Frequently Asked Questions